Home

Welcome to A to Z Event Sales!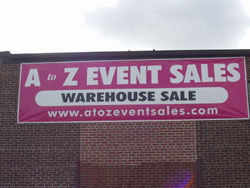 Shopping should never be boring! We want you to have fun and what is more fun than buying a ton of great stuff for yourself or gifts for others without emptying out your whole pocketbook. Can you remember the last time you had to push a cart and pull another at the same time because the bargains were that good? It happens every weekend - don't worry we have staff ready to help you squeeze all your "finds" into your car.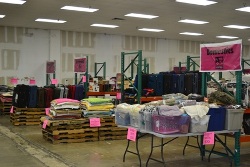 Let us tell you a little bit about A to Z... We are a wholesale company that sells truckloads of merchandise to other discount chains. Any merchandise that is not sold in the beginning of the week is put into our warehouse stores at ridiculously low prices. The warehouse stores are only open to the public Thursdays through Sundays and are replenished with new truckloads of merchandise every weekend.

Each sale, new assortment! We are committed to continually providing you a new assortment of great buys at each sale so that bargain hunt thrill never leaves! We are constantly expanding our product assortment with items from top brand name manufacturers in many categories. We carry branded apparel, branded footwear, electronics, household paper products, food, health & beauty, handbags, underwear, bras, socks, home décor, comforters, sheets, towels, mattresses, and seasonal product.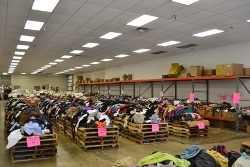 How do we offer prices so low? We do not spend a lot of money on store fixtures and expensive advertising. A to Z's philosophy is to keep things very basic and simple. We display our product on pallet racking and our main forms of advertising are word of mouth and our e-mail list. If you would like to join our e-mail list, please click on Mailing List on the left side of this page. You will get weekly updates of new product deliveries for the next weekend's sale.